Republicans:
Democrats:
As is so often the case, the Democrats' report has something in it worthy of discussion.
You may recall that in the closing weeks of the race some pro-Magovern-Blackburn mailers went out that were paid for by the Monmouth County Democratic Committee.  I published them here and questioned the legality of the County Committee paying to create and mail local candidate campaign materials.   At the November 9 Council meeting, prior to the meeting getting started, 2014 council candidate Mike Seebeck asked Borough Attorney George McGill about this apparent violation of Belmar's Conflict of Interest ordinance.  According to Mr. Seebeck, Mr. McGill stated that the campaign would be reimbursing the County Committee for the cost of the mailers.
We see in the report that the campaign did sent the Committee $6000 that same day:
Funny how the cost came out to exactly $6000.  Seems more like a guess to me.  Also, I don't believe the payment should have been listed as a campaign expense.  It's not as if the Monmouth County Democratic Committee is a printing and mailing company.
I would think it should have been entered on this page of their report:
We also see on this report that Brian loaned the campaign $6000, also on November 9.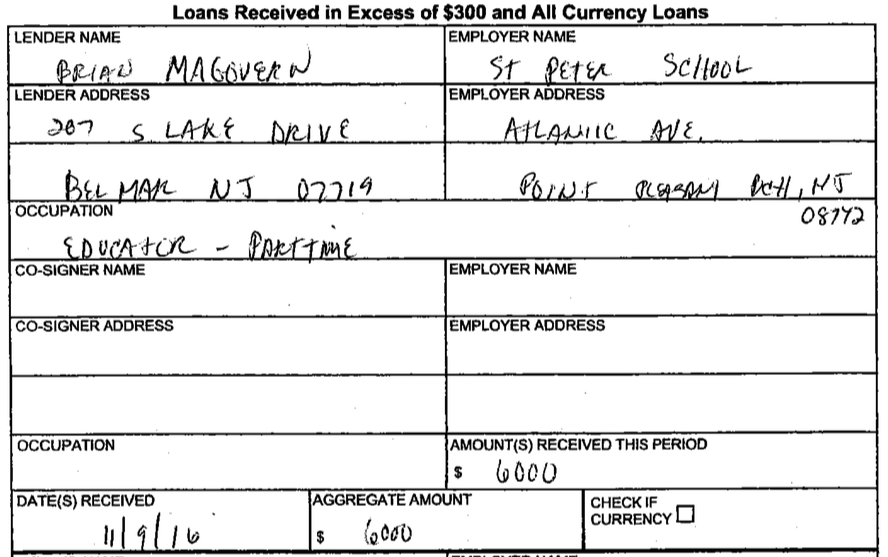 Which the campaign still owes to him: