And it's a doozy.
I skipped the pages with unfilled out forms.  Click on each image to enlarge it or download the entire document here.
Fish Inc is Robert Fishman from the Avon Pavilion.
Steve Gallo has held various official jobs in Bayonne.
Susan Torricelli is Robert Torricelli's ex wife.  On a later page is a contribution from Torricelli himself.
I guess FREEDOMPAC is some union thing.  A quick Google search came up empty.
You'll recall we looked into Turcil when it contributed to Jennifer Nicolay's campaign last year.  We traced it back to Dariusz (Derek) Targonsky, owner of Hanley's liquor store.
You're going to see a lot of union PAC money throughout this report.  None of it is permissible under Belmar's current pay to play ordinance.
Three unions and a pass through.  All impermissible.
I didn't find much on Blue Victory Fund but a quick look at ELEC shows a lot of their money came from engineering firms.
Aleatory is Bar A.
Fernicola is the mayor of Loch Arbour.
A pass through from Dan Benson and donations from Colleen and Jennifer.
Cohen is a former Lake Como councilman.
Bertoli is a political operative in Hudson County and an advisor to Steve Fulop.
I see Brian is aboard.
Lake Como Mayor Brian Wilton.
Larry Luttrell ran for Assembly last year.
Ed Farmer is former chief of staff to Bill Pascrell.  His firm assists public entities in getting grant money from the federal government.
Marketing mogul Richard Tarzian, for those who don't know, is the guy who lives here:
Also chipping in are Claire Deicke and Janet Grosshandler.
Princeton Public Affairs is a big lobbying group.
Mary Foster is Vice Chairwoman of the Monmouth Democrats.
Rosalie Doherty is Matt's mother.
Steve Long is a big lawyer in Staten Island.  Don't know what the connection to Matt is.
Didn't Mark Fitzgerald vote in Belmar?
William Stapleton is a billboard guy.
Judy Young is the wife of former Belmar administrator Bill "We were in a foxhole, Broadco sucks" Young.
Public Strategies is a Trenton lobbying company.
The Cryan pass through was already discovered and reported on here.
Fanwood Mayor Collen Mahr is probably a friend of Matt's sister Maureen, who lives in that borough.
Wayne Blanchard is V.P. for legislation at the Troopers union.
Belmar Code Enforcement chief.
Belmar Public Works chief.
A and M is a lobbyist.
Masons union.
Three unions and a pass through.
As promised, Bob Torricelli.  (I read somewhere he wants to make a comeback.)
PR firm.
Union PAC.
Pass through.
Operating engineers PAC.
Pass through from a state assemblyman.
Pass through from a state senator.
District Council 711 is the painters union.
Hoboken Strategy Group is a "boutique New Jersey government relations and business development firm".
Frank Raia, you will remember, is the guy who put the swimming pool on the property with no house.
Thomas Paterniti was long time head of the Edison Democrats.
IBEW 400 always there to help.
Painters again.
A Kivvit guy.
More union cash including the $8200 from LIUNA that was already reported on here.
Grillo was the Assembly candidate last year who had all the parking tickets in Asbury Park.
Fernandes represents carpenters unions and contractors.
Bill Young, former administrator.
Spark Marketing advertises for our Tourism Commission including for the Seafood Festival.  Their contribution was later returned for some reason.
Sonnefeld and Troccia were the architects for the pavilions.  One of their architects is a Lombardi from the Lombardi family that owns Chefs International.
Patricia from the library.
Not sure about this Leo Ayala guy.  His company does telecommunications work for various institutions.
Don't know anything about these.
That's all the contributions.  Here's the rest of the report:
10 grand for the joint committee.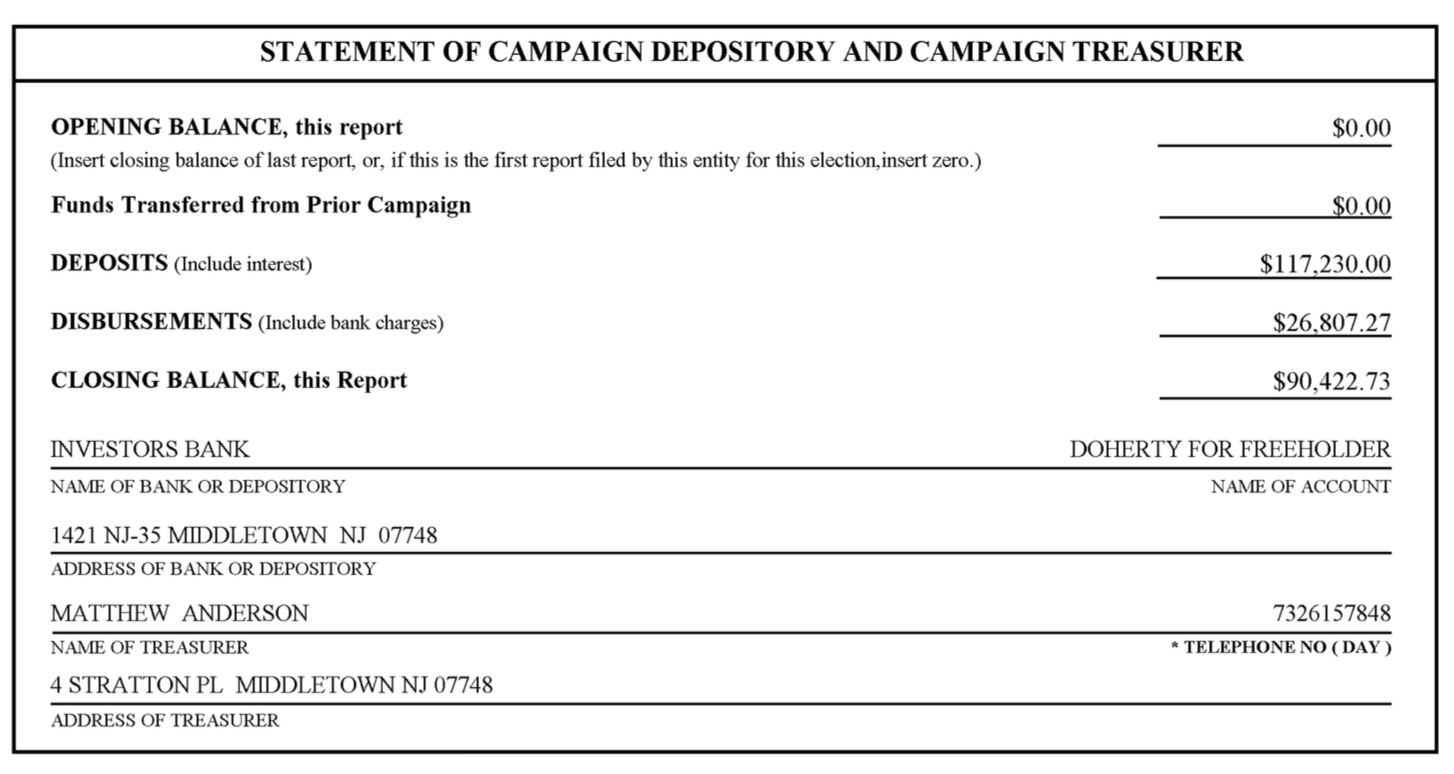 Treasurer is Matt Anderson, not Matt Doherty.
BTW, none of this, or the identities of the less-than-$300 contributors, is up on the Borough website as our P2P law requires.